iPhone 4: Excessive nightly 3G Data Usage while on WiFi
With my new iPhone 4, I thought "I'll just switch to a 200MB data plan" since I mostly use WiFi and have rarely had a month of greater than 150MB data usage.
What a mistake. With no apps running in the background, Push turned off and Notifications turned off, according to the myWireless AT&T app, my phone is using between 5 and 50 MB of data per night. The usage occurs between 11pm and 3am MT. Upon waking the phone up, it shows it is connected to WiFi, but I get a momentary flicker of the 3G icon. That's what makes me suspicious it is using 3G instead of WiFi when it goes to sleep. That behavior is contrary to documentation.
Articles and Links
There's no shortage of material to point at extolling variations of this problem. Some are old — as far back as 2008 — but the post frequency and number of new threads has increased, centered around the iPhone 4 launch and anyone transitioning to a 200MB data plan.
An Apple forum 3+ page post on iPhone 4 using Cellular Data when on standby and connected to wifi.
A MacRumors thread that states "it's speculated that it's being sent via 3G because the phone typically is sleeping when this occurs, and iPhone (at least until iOS 4.0) never connects via WiFi while asleep – only via 3G"
The 10 page Apple discussion entitled "Unknown data usage early morning".
An AT&T forum thread entitled "iphone 2am unauthorized data usage"
Another AT&T thread from 2009 stating similar complaints on iPhone OS 3.0
A claim that it is just a usage tally (which still doesn't explain the days I never leave the office WiFi).
"iPod touch can stay connected to Wi-Fi when asleep so you can receive incoming VoIP calls and notifications from compatible third-party apps." So, WiFi should stay connected.

"There's no word on whether this applies to the iPhone as well (since cellular data is typically persistent anyway), but it would be a nice feature to have in all iOS devices — including iPad, especially when roaming with data turned off, or even just to prevent the delays that usually accompany reconnecting to Wi-Fi based remote control apps."
Older, 2008 post claiming "Wi-Fi is usually turned off a little while after in standby."
Conclusion
The only logical explanation is that everyone is just holding it the wrong way, thereby causing it to use more data on 3G than it should.
.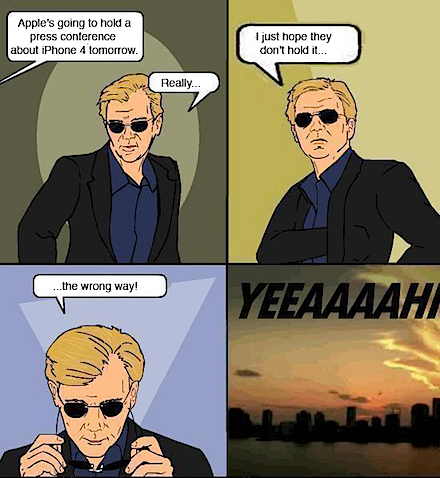 About Matthew McCullough
Matthew McCullough is an energetic 15 year veteran of enterprise software development, open source education, and co-founder of Ambient Ideas, LLC, a Denver consultancy. Matthew currently is VP of Training at GitHub.com, author of the Git Master Class series for O'Reilly, speaker at over 30 national and international conferences, author of three of the top 10 DZone RefCards, and President of the Denver Open Source Users Group. His current topics of research center around project automation: build tools (Gradle), distributed version control (Git, GitHub), Continuous Integration (Jenkins, Travis) and Quality Metrics (Sonar). Matthew resides in Denver, Colorado with his beautiful wife and two young daughters, who are active in nearly every outdoor activity Colorado has to offer.
More About Matthew »
November 1 - 3, 2013
Reston, VA
Current Topics on the NFJS Tour
Core Java, JEE
Dynamic Languages: Groovy, JRuby, Scala, Clojure
RESTful Web Apps
Frameworks: Hibernate, Grails, Spring, JSF, GWT, more
Agility
Test Driven Design
Security
Ajax, Flex, RIA
View Event Details »
Why Attend the NFJS Tour?
» Cutting-Edge Technologies
» Agile Practices
» Peer Exchange
Current Topics:
Languages on the JVM: Scala, Groovy, Clojure
Enterprise Java
Core Java, Java 7
Agility
Testing: Geb, Spock, Easyb
REST
NoSQL: MongoDB, Cassandra
Hadoop
Spring 3
Automation Tools: Git, Hudson, Sonar
HTML5, Ajax, jQuery, Usability
Mobile Applications - iPhone and Android
More...
Learn More »
NFJS, the Magazine
May Issue Now Available
On the road to learning

by Raju Gandhi

Refactoring to Modularity

by Kirk Knoernschild

RESTful Groovy

by Kenneth Kousen

Getting Started with D3.js

by Brian Sletten
Learn More »